| | |
| --- | --- |
| | Imagine your kids having fun, liking math and looking forward to playing on a Number Wheel where they discover fascinating patterns (you too)! |
From: MisterNumbers (Tom Biesanz)
Dear Friend,
Does this sound familiar?

• Your kids have a glazed look on their faces when it is time to learn math.

• You are scared that your kids will struggle with math, negatively affecting their school experience,
and their self-image.
• You worry that their possibilities will be limited if they are not good at numbers. Math is crucial for
getting into later classes and careers.

• You're frustrated that they might not be good at math. You know how important it is for them to
"get math" and have a good attitude about numbers.

• You have seen some of the new math and it doesn't make sense to you! Common Core and other math
approaches can be head-scratchers for parents and teachers as well as kids. This approach is visual and pretty cool.
• You may be a parent, grandparent, friend or relative that knows how important math will be in a kid's life. Sharing what you learn here will be a connection and help that can continue on in their schooling.
• You may be a teacher or a parent who is home-schooling or a parent who wants to give your kids a good start in math. This visual PLAY based approach is effective and will give you both smiles. I do Teacher Trainings and they love to share with their kids.
• You want to get started on the right foot because you KNOW what a difference the right start in math is for your kids. Math is crucial in school and in life.
• You want a foundation that multiplication and advanced math can build on. The Pattern Play Addition System on a Number Wheel builds a foundation they will help them as they continue in math.
• You want your kids to get a good math education but also see the value in the arts. The Pattern Play approach explores the beauty of the deep patterns in math that are fascinating to kids and adults. It combines art and underlying patterns at the same time.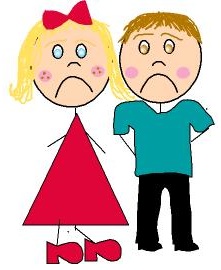 Parent Tiffany Hart says: "LOVE IT, LOVE IT, LOVE IT, LOVE IT...... I'm going to send this information to my daughter's school.  Thank you so very much."
Parent Jenny Adams says, "Thank you! No tears tonight! I have the hardest time trying to explain math to my child because she thinks so much differently than I do. She totally got these patterns and had FUN doing it!"

As a homeschooling mom, I'm so thrilled to discover your methods! :) -Madeline Moody
"Totally awesome.. Where was this when I was in school learning. Great help for my homeschoolers!" –Mama Frazie
"This fits in wonderfully with the my research! This style of teaching mathematics is simple, easy for students to grasp at an early age, and easy to teach TEACHERS as well :) This approach opens math up to students who don't think in numbers, or who don't think they CAN do math :) EXCELLENT!

"The patterns you point out are truly ingenious and fascinating, helping to reveal some of the beauty of mathematics, to appreciate the beauty and esoteric nature of the sciences. That, I think, is where you come in, as an artist and visionary who can take people beyond the norm. And I bless you for doing just that. I wish you the best of success and happiness." -Rutledge

"Ah, this is so wonderful! I'm grinning ear-to-ear! it's infectious to see and feel the energy of a child discovering and learning and developing confidence so quickly--while having fun! revolutionary!" -Kendra Zoa


I've got GREAT news for you – you are SO in the right place right now!

My name is Tom Biesanz, and I'm known as MisterNumbers.  Why? Because I've gotten SO good at it and love it SO much, that you can find me by Googling MisterNumbers, and more importantly millions of kids, teachers, and parents have changed their attitude and ability while playing. I keep expanding my teaching over and over again. It is funny in a way that my last and best (according to the feedback) area has been addition. Addition seems simple but there are barriers to getting started in math, and language confusion drives kids crazy. And now I've got it down to a science!
What's my secret? Well, here it is in a nutshell –
The FREE Preview Webinar
Yes, I show you the basics of the Number Wheel Addition System on the free preview call.
It's the easiest, fastest, and most playful way to help kids learn addition and build a foundation of the basics principles of math in a fun way.
Forget rote memory and flash cards, You can STILL help your kids learn addition. (And the BEST part is you will have fun learning hidden patterns that are cool too.)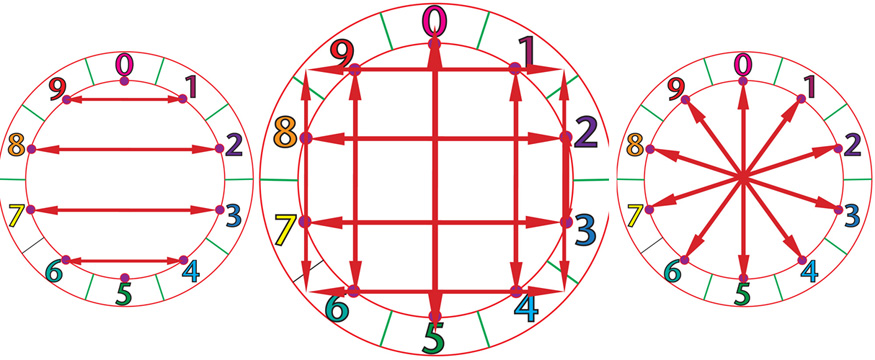 In fact, Number Wheels are the QUICKEST and BEST way to introduce math to kids.


But there is a catch. As simple as a Number Wheel is, it's not easy to get these kinds of results. If you don't know what you're doing, you can possibly confuse kids or turn them off to math.
So the free preview call is crucial to your success.  But it's only the beginning.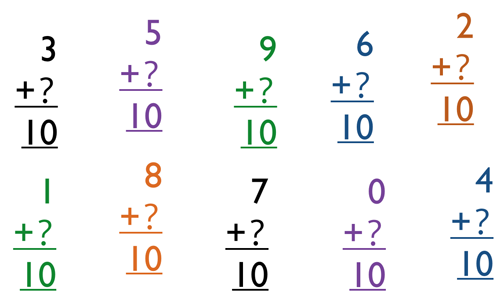 You ALSO need to get kids to:

1) Understand WHAT a Number Wheel is (yes it is a great tool, but they need to grasp what they are seeing, and the structure, and how it works!)
2) Find ways to play on it and get familiar with it's structure. If you skip some of the steps, they can get lost.
3 See the magic patterns of Make-Five and Make-Ten pairs of numbers (Hey, our math system is based on Tens and some kids don't catch on and experience math as ten times harder than it is).
4 See and explore the amazing patterns in all the numbers (Instead of learning individual math facts, your kids can have fun learning SETS of math facts, and pairs of sets and overall patterns that are cool and make learning much easier.
5 Learn multiple ways to reach an answer. (Different kids have different learning styles and they pick the ones that work for them).
you can teach individual math facts or your kids can have fun learning SETS of math facts)
6 Learn how to shift visually to do subtraction (Not a whole new subject)
7 Use this foundation to learn the basics of math and are ready to do multiplication also by playing (I will do webinars on multiplication and squares later, but this one will help and be fun too).

Now you may be on my list, and have seen my videos,
(But it's STILL not working?)
That's because you don't have my ENTIRE system. You see, I am getting this down to a science. I know what you need to do and HOW to get the BEST results.
Plus, there are things that are CRUCIAL to do – and you might be inadvertently skipping them because you don't think they're all that important!
You see, it's not your fault you struggle with how to help your kids with math.
"The Pattern Play Addition System with Number Wheels"
You're about to learn my clear 5-STEP plan which teaches you EXACTLY
How to have your kids play in ways that are teaching them about addition, but also about digits and place value, how they work, about place value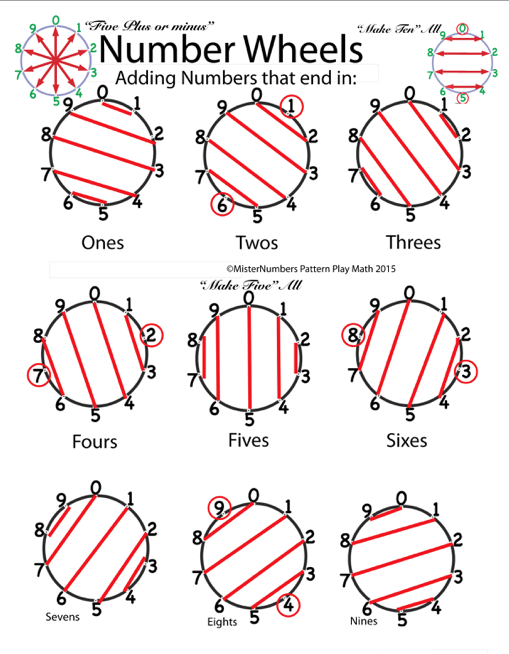 So now you may be wondering, "Tom, how EXACTLY
are you going to teach me to..."
• Understand and overcome the barriers to kids learning math
• Help my kids have fun playing and learning math at the same time

• Create a positive attitude about math that lasts a lifetime
• Improve my relationship with my kids as we play in effective ways

• Access a cool structure that will help your kids later in math

And see myself enjoying sharing this and having fun with my kids.
so that I can stop worrying about how my kids are doing in math and whether they like it or not?"
Valid question!

Here's my answer...
I've designed this training to go much deeper than one of those "in-a-box" math products that gets you all excited and then leaves you alone to struggle with teaching your kids addition. Sorry, I care too much to do that to you.
I'm going to hold your hand all the way through this one. It's not okay with me for you to do anything but watch your kids grow in curiosity as they learn math facts and the patterns behind them.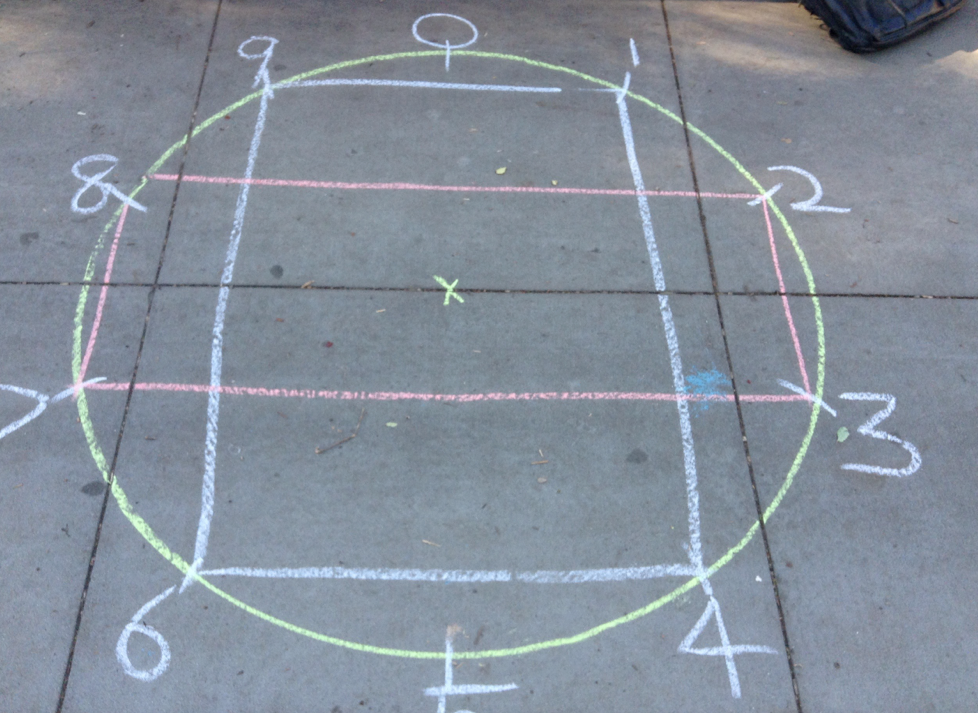 Here are the SPECIFICS of how we're going to do this:
You'll be sent an invitation to join our webinar series, where we'll let you know about all trainings, recordings of the calls, playsheets (worksheets), and more.
 
5 Success Maximizers!

But that's not all. My goal is to give you everything you need to lead your kids through play with addition. So that's why I've also included these very special modules:
1) MisterNumbers Addition on a Number Wheel ebook
This is the key to how so many of my students get the pictures (worth 10,000 words) and lists and sequences. It has many fascinating printable sheets that kids (and you) will explore and enjoy.
 
2) A Math Frisbee created by MisterNumbers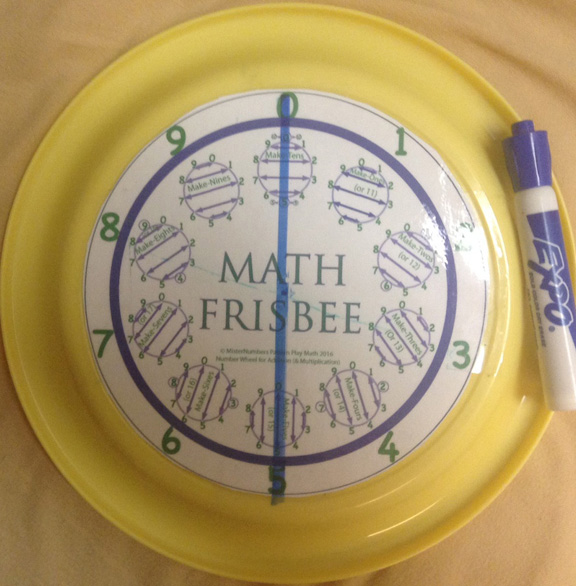 The Math Frisbee is a kid's own ingenuous guide to addition and subtraction with a simple visual layout of all of this on a flying disk, includes instructions inside. And it is set up to explore and confirm math facts with an erasable marker again and again. It also it a cool Frisbee to play with. Not available anywhere else.
 
3) The Math Frisbee ebook
Includes the pictures and explanation of how to use the Math Frisbee as an individual learning tool and as a group or class learning game. It has lots of pictures, all the details, and printable "playsheets".
 
4) Two color laminated 8.5x11 posters of Number Wheel Addition
Put these someplace that kids will enjoy and you and they can draw on them with erasable markers to highlight addition facts
 
5) Lesson Plans for both first graders and third graders (they need this too and it introduces multiplication). These were put together by Teresa Schumaker who has used Number Wheels in her classroom for years.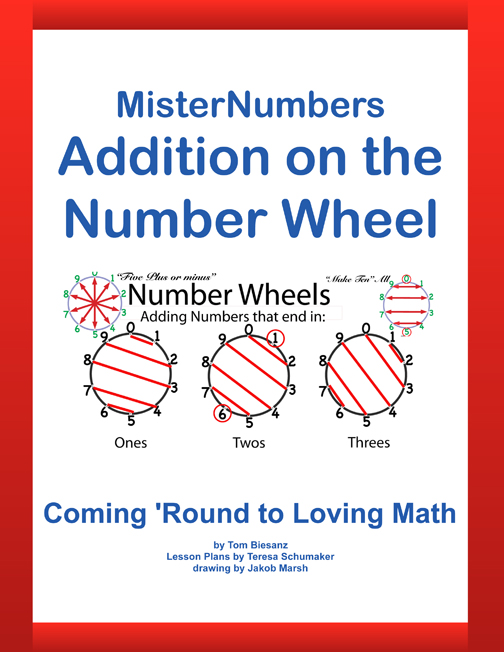 To recap, here's what you'll get with "MisterNumbers Pattern Play Addition System"
• MisterNumbers Addition on a Number Wheel ebook,
• An awesome Math Frisbee mailed to you
• Along with 2 color laminated posters.
• You will also get the Frisbee Math ebook.
• Descriptions and links to the best MisterNumbers videos
• and the 5 live training and Q&A calls with me,
• plus a bonus Q&A call.
6) 10 Worksheets (2 each webinar)
Plus you'll get replays of all the Webinars
So now you're probably wondering, "What's this going to cost me?"

Here it is plain and simple. I don't have to sit here and tell you that the Number Wheel Addition System alone is easily worth the $197. As a matter of fact, I was told that it was worth more than double that amount.
I'm not going to compare it to the cost of having Starbucks every day or that it's way less than a name-brand purse or pair of designer shoes.
I think you're already doing the math in your head and you can see that if you followed my proven system, you and your kids are going to stop worrying and have fun with this. And think of the value to your kids as they continue on in school and life enjoying and "getting" math. And the tutoring money you will save later because they are ahead in math.
But, I want to make this as easy as possible for you to invest, so for a limited time I'm going to also throw in a fast-action scholarship of $100 (I like to reward fast-action-takers because they tend to be my very best students!)
As a second bonus, the first 24 people to sign up will get a 15 minute personal phone call with me after the Webinars as a reward for jumping in, and because I want to find out what works best and how I can help. Be one of them!

Plus you're protected by my Pattern Play Math "I Love This Training" Guarantee
I'm confident that when you join The MisterNumbers Pattern Play Addition on a Number Wheels course, you're going to be thrilled. I also know that if you follow the steps and do the work, you will have fun with your kids and they will "get" addition and like math.
Just to back that up, I'll give you 60 days from the date of your purchase to live with the work and REALLY decide if it's for you … in your heart. If you decide it's not for you … just let me know, return the product in resalable condition and get a full refund. 100%!
 


Yes MisterNumbers! I'm ready to learn the Pattern Play Addition System on a Number Wheel
 
For just $97 (After the deadline the price will be $197) I understand I'm getting:
• 5 Webinar sessions with MisterNumbers where I learn the tools, the games, the sequence, ways to teach addition and subtraction, extra cool hidden patterns that kids love, and MORE!
• MisterNumbers Addition on a Number Wheel ebook ($20 value),
• An awesome Math Frisbee mailed to you ($20 value)
• Along with 2 color laminated 8.5x11 posters. ($20 value)
• You will also get the Frisbee Math ebook. ($20 value)
• and the 5 live trainings ($197 value)
and Q&A webinar
• plus a bonus Q&A webinar ($40 value)
• a personal 15 minute phone call with MisterNumbers if you are one of the first 24 people to sign up. ($40 value)
Plus you'll get replays of all the Webinars for a year ($197 value)
and a money back guarantee of satisfaction.
 
PAY IN FULL TO REGISTER NOW
$97
(US Shipping included, $14.95 international shipping.
Sales tax added for CA residents)

Rest easy — your order will be processed on secure servers.
 
So are you ready to get started? Reserve your space TODAY because you and your kids fun adventure is just
a few weeks away!
To your success,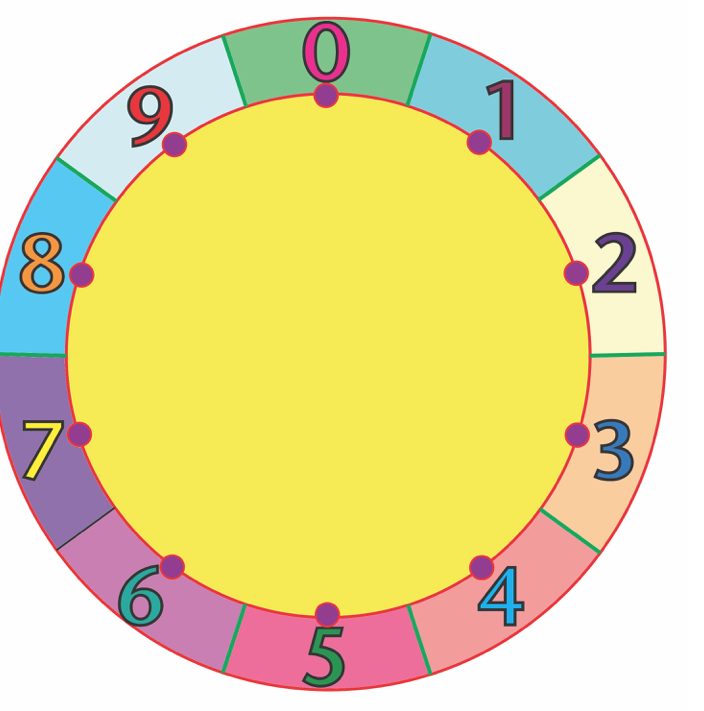 P.S. Look, let me be honest here. It doesn't matter to me if you invest in this program or not. It DOES, however, matter to me that you MAKE A DECISION about it before you jump off this page. Please don't let this be one more thing you need to "think about." Nothing will keep you from your dreams faster than delaying decisions. So YES or NO, trust that and move forward. If YES, Reserve your spot and learn my Pattern Play Addition for Number Wheel System
Ready to reserve your spot? Or do you still have a few questions?
Q. How exactly is this Webinar going to work?
A. As soon as you register, you'll receive an email with the links to the ebooks, so you can get started with this work right away! You will get the Math Frisbee and the posters in the mail soon, and the worksheets will come during the Webinar.
Then you're going to be invited to 5 LIVE training calls and one LIVE bonus Q&A call.
If you miss one of these live calls, you'll still be able to catch up with the replay later.
Q. WHO is this training best for?
A. This method works especially well for those who care about kids and how they learn. Seeing and Exploring patterns are about learning how to learn. Both parents and teachers will enjoy this.
Q. I am a grandparent or relative that have limited time with the kids in my life. Will this work for me?
A. You can make the best of your time together and help them in a crucial area of their school life and their future. You also will enjoy the Webinar and find yourself sharing with others in your life.
Q. Should I wait and do a Times Table Webinar later with you?
A. This is a great question. This is a foundation class that teaches many math concepts beyond addition. I am making this as affordable as I can so you can jump in. You will be glad you did and there is the money back guarantee.

About Tom Biesanz, MisterNumbers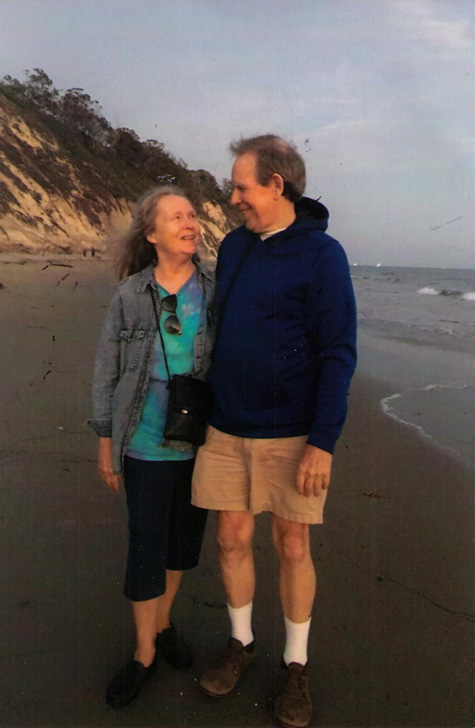 With wife Jan on the beach in Santa Barbara
Creator of Pattern Play Math, Tom Biesanz is changing math into something fun and easy, with a WOW factor. Curriculum Review magazine says it "does make math fun! … a revolutionary visual and auditory introduction to math – a welcome resource in a time when U.S.math scores are falling behind other countries."
He has done Inservice work with individual schools and school districts.
As MisterNumbers on Youtube, he has freely shared his lessons with over 2 million Youtube viewers. Many of his videos are animated and are rated 5 stars. He generated that many views because dozens of reputable websites like Encyclopedia.com, HomeSchoolNews.com, WorldNews.com, WatchKnow.com share his videos as valuable teaching tools.
Tom is the author of Right Brain Math and Amazing Calendar Math Magic. He created the MisterNumbers Companion DVD for the Right Brain Math book and also 5 fascinating free iphone math apps.
Many math teachers have given rave reviews to his presentations at several California Math Council conventions.
Parents and teachers, as well as students, enjoy Tom's approach. He is an inspiring presenter with 7 years of Toastmaster experience and was selected as "Toastmaster of the Year" in 2011 by his club.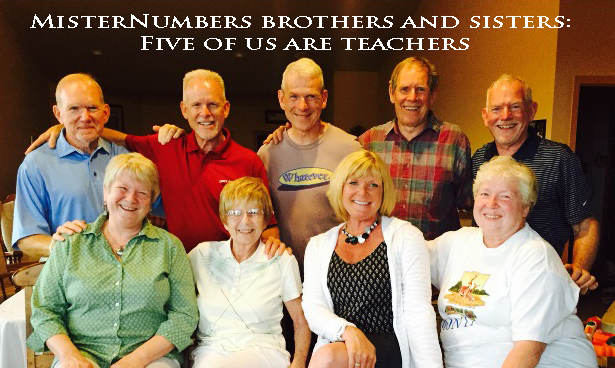 (He is in the plaid shirt) Education is a deep love for Tom. His mother was a teacher and four of his brothers and sisters also have been teachers. His personal connection to fun learning also includes his grandkids.
Parent Tiffany Hart says: "LOVE IT, LOVE IT, LOVE IT, LOVE IT......I have a third grader and this is working like a charm.  I, myself have learned the times tables better.  I'm going to send this information to my daughter's school.  Thank you so very much."
Parent Jenny Adams says, "Thank you! No tears doing homework tonight! I have the hardest time trying to explain math to my child because she thinks so much differently than I do, and teachers just send home drill-and-practice worksheets that are pure torture for us. She totally got these patterns and had FUN doing it!"
Tom is the expert who can assist you in helping your kids love and understand math. They will appreciate what you are sharing with them
www.PatternPlayMath.com/ Tom@PatternPlayMath.com
BUY IT NOW for only $97 and get all the bonuses too!
 
Legal Disclaimer: Every effort has been made to accurately represent our program and its potential. The testimonials and examples used are exceptional results, don't apply to the average attendee/purchaser and are not intended to represent or guarantee that anyone will achieve the same or similar results.