Sign up below for 3 FREE Worksheets to experience the fun Right Brain way to teach your kids to Master Math
I am Tom Biesanz, MisterNumbers on Youtube, with well over a million video views as well as the author of several books including the Right Brain Math book. I have presented to Math Teacher Conventions. I am also having great fun with my 5 grandkids aged 5-10. I didn't start out to develop a math system, but created it out of necessity to help struggling kids and then found it helped more and more kids with numbers and with their self image and their attitude about math.
How to help your kids have fun learning math effectively,
and feel good about numbers and themselves
This is for you if your kids struggle with math concepts and the multiplication tables.
This can help you if your kids have a negative attitude about learning math.
You are in the right place if you don't understand why your kids hate math class.
This is for you if you are a parent, homeschooler, or teacher who cares about whether your kids GET math.

What is Possible?
This right brain approach will help your kids to gain confidence and mastery around math and multiplication.

This will help your kids (and you) develop a positive attitude about math.

This will help you discover your kids learning style and help them succeed through school and life.

Your kids will get an overview that allows them to both learn individual facts and see the overview that ties math concepts together.

They will also be learning how to discover patterns (important lifelong in having fun learning).
Adult Learners also Love Pattern Play Math
LISTEN to a woman's 1 minute request for Right Brain Math to be used with adult learners.

Pattern Play Math is a Right-brain path to starting over with the big pictures.
The Left Brain says you can't play with the ones-digits and tens-digits separately.
Yet Kindergarten students are learning multiplication on the EZ Times Table, the Right Brain way.
There are many variations of the EZ Times Table that teach factors, squares, prime numbers.
The Left Brain says you can't bend a number line into a circle. But it is fun and teaches kids to write out the times tables as they play with right brain patterns.
The Left Brain says a Tic-Tac-Toe Square can't be used in math, yet kids smile as they see patterns that help them create the 1s, 3's, 6's, 7's and 9s.
The Right Brain involves pictures, sound, the BIG picture, understanding, and FUN in learning math. The results are similar, but much easier, faster, and more human in a Pattern Play way.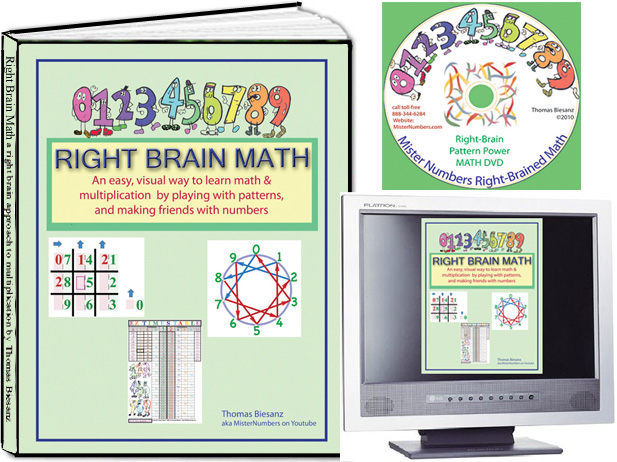 Click HERE to order the book, ebook, & DVD for $24.95- a $41.85 value (priceless?)
The Right Brain Math book, ebook
& the companion DVD (1 hour)

- 96 pages of worksheets, graphics, tables to support multiple learning strategies.

-25 full page tables that visually show each step

-whimsical drawings that amuses kids and adults & lock in learning.

- 17 full page worksheets (playsheets)

- DVD uses many of the worksheets in the book)