"Are you ready to STOP worrying if your kids will "get math" and have them START saying "Awesome!" and "Cool!" as they enjoy learning addition in visual and active ways that make sense to them and to you?"
May be BEST WAY TO INTRODUCE MATH:
Webinar on the the New Pattern Play
Addition Number Wheel HERE
SIGN UP HERE and Get the first 12 pages FREE of MisterNumbers Addition on a Number Wheel ebook, video replay available if you can't make it to the free live webinar. This is a new, visual, playful, powerful, and action centered approach to changing attitude and ability around math. YOU will love it too, so sign up above now. It is all free. Find out more about the Webinar HERE
Your kids are into multiplication? Check out the video series that shows many fun, visual, playful ways to learn the times tables on Tic-Tac-Toe squares, the EZ Times table and on Number Wheels. Do watch the Addition webinar because it is so fun and leads right into multiplication effortlessly with a solid foundation for all math, and creates a positive attitude about numbers, which is half the work!
Or the book, ebook, and DVD combination below.

I am Tom Biesanz, MisterNumbers on Youtube, with millions of views as well as the author of several books including the Right Brain Math book. I have presented to Math Teacher Conventions and presented Inservice and Staff Development Trainings to Schools and School Districts.
This is for you if you are a parent or teacher and your kids struggle with the multiplication tables, math concepts, and more. Help your kids have fun while learning math effectively.
A new School Year is starting. It is important for kids to learn the times tables, important to have a positive attitude and belief that they are capable of learning and liking numbers. Pattern Play Math can help. I also have
TWO FULL IPHONE APPS and I have temporarily made them FREE (ENJOY):

Wheel Math Wheel Fun http://itunes.apple.com/us/app/wheel-math-wheel-fun/id387151566?mt=8
TTT †imes Table http://itunes.apple.com/us/app/tic-tac-toe-times-table/id395176671?mt=8
The Wheel Math apps work on iphone, but not on ipads, the other three work on both iphone and ipad.
What is Possible with Pattern Play Math!
This visual and structural approach will help your kids master the Times Tables, so crucial to math mastery. Their struggle is often a teaching problem, not a learning problem.
This will help them gain confidence around math and multiplication. Recent feedback from a kid I was told was poor in math: "I'm a genius!"

This will help your kids (and you) develop a positive attitude about math. "This is FUN!"

This will help you discover your kids unique learning style and help them succeed through school and life.

Your kids will get an overview that allows them to both learn individual facts and understand math concepts.

They will also be learning how to discover patterns (important lifelong skill).
STUDENTS WHO KNOW THE TIMES TABLES will use these fun techniques to learn and understand factors, negative numbers, prime numbers, slope lines, and even squaring two digit numbers in their head.


Pattern Play Math allows kids to enjoy, understand, and master math in a fun way. Tic-Tac-Toe Squares and other Cool Tools, engage playful activities to create times tables, and use and understand math in a friendly way.


Your Choices: Get worksheets and info on Webinars, a private session
with MisterNumbers, or his book, ebook, and DVD

1) Sign up for the worksheets above to get info on Webinars where MisterNumbers will teach your kids directly.
2) OR do a 30 minute session with MisterNumbers for only $50 (Limited time offer using Skype, Hangout, or Facetime). This is a limited time offer as I explore new teaching techniques. You may sign up for up to 2 sessions for you or your kid(s) You will get worksheets emailed to you and info on how to set it up.
3) OR for a limited time, get his Right Brain Math book, ebook and the hour long DVD for only $24.95 (click below).
"Education is not the filling of a pail, it is the lighting of a fire." W.B. Yeats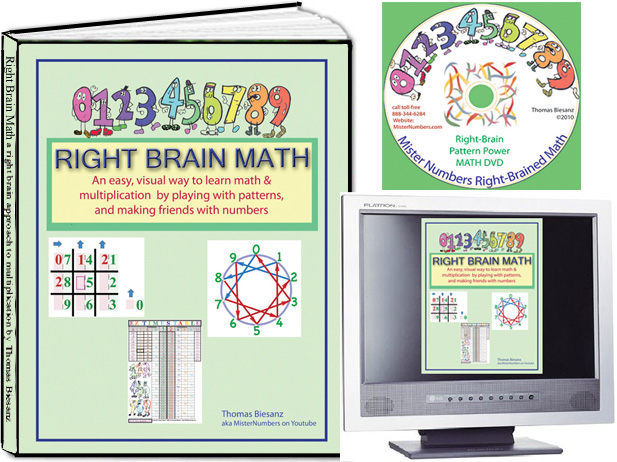 The Right Brain Math book, ebook
& the companion DVD (1 hour)

- 96 pages of worksheets, graphics, tables to support multiple learning strategies.

-25 full page tables that visually show each step

-whimsical drawings that amuses kids and adults & lock in learning.

- 17 full page worksheets (playsheets)

- DVD uses many of the worksheets in the book)
Order the book, ebook, & DVD for $24.95-
a $41.85 value
with a money back guarantee. You will be glad you bought it.
-------------------------------------------------------------------------------------------------
Pi Day was great at the Santa Barbara Library 3.14.16 (3.1416), a fun, participatory celebration of all things mathematical. See pictures of this exciting event co-sponsored by MisterNumbers!